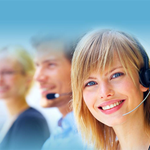 From The Member Services Team…
…Happy New Year to All Our Fellow Neothink® Members
Member Services is continuing to grow and support upcoming members, new members and existing members by answering questions, listening to comments, and directing members to Clubhouses.
In the month of December '09 Member Services answered over 1600 calls.
There are many conversations throughout the day: Let's peek in on one such conversation from Member Services caller, Larry Palmer.
Here is Larry's story:
As an active member of the Member Services information help desk (800-480-2336), it has been of great benefit to me.  I am able to speak to many members from all across the country.  Los Angeles to New York City, Boca Raton to Seattle, WA… and even in Hawaii.
Members who, while looking for information or a little help, often times end up helping me!  Having the knowledge of what Mark Hamilton has been able to share and then being able to share that with members, and assisting members through the process knowing that they will become of conscious mind and able to see through the illusions to what is.
I would like to take a moment and share a short story.
I was speaking with a member from the state of Washington.  She told me she was a retired teacher and that she attended both church and helped with Sunday school classes.  She explained that she had a very serious problem with the society, in that it appeared to her as if the society believed in atheism.  I asked how far she had progressed through the literature.  She had all the books and though they were very informative, she thought that she really could not stay in the society.  My response to her was, try going back to the second volume in the first manuscript "Break through to Enlightenment".   I explained that it explains how Jesus Christ was of conscious mind that he tried to speak to the crowds, trying to teach them that they are their own authority.  Christ was the start of bringing mankind out from the bicameral mind to consciousness.  And, that was also the start of Christianity.  As a part of the member services information help desk, I am reminded with every member that I speak with, that the society is trying to teach people to think for themselves, be their own authority, be of conscious mind, see through the illusions that have been created.  She agreed and said she would continue to read the material.  Here was a member thinking about leaving the Neothink® Society and I was able to have her continue, to stay with the Society.  I obtain my greatest energy (excitement) every time I speak with a member.  In short, I find that instead of helping other members, they really are helping me.  I must thank The Neothink® Society for allowing me to be a part of the society.
THANK YOU, Mark Hamilton for what you have created, and giving me back that lost child within me.
Lawrence Palmer
Neothink ® Member Services