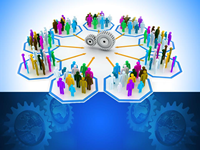 World Neothink® Day Happens May 16, 2010
At A Clubhouse Near You!
Cate Kozikowski
World Neothink® Day is steaming right along with preparations to make this one of the most exciting and fun events of 2010!
We had a dynamic Clubhouse Power-think Call and emailed all active and Current A-Team Coordinators a comprehensive guide to planning a World Neothink® Day clubhouse. Did not receive yours?  If you are an A-Team Coordinator, then email Cate at world.neothink.day@gmail.com with your current contact info.
We will be sending out more help and assistance to all A-Team Coordinators and also hosting more Power-thinking and training sessions as we get closer and closer to World Neothink® Day.
We are gathering details about a very special Memorial Section for all our Neothink® members who we have lost to death. If anyone has a story to share, a picture, or even another member who has died, please send an email to Cate at world.neothink.day@gmail.com
Here is the list of names we have so far:
Frank R. Wallace
Chris Price
Ruben Soria
John Slovkovsky
Jeffery Curtis
Billie Gammons
So far we have 2 confirmed live events, The Great Nor'easter happening in Preston, CT; and The Health, Wealth, and Safety Conference hosted by the 4th Canadian Conference in Ottawa, Ontario. Both of these events are regional and will be lasting for a few days each over the World Neothink® Day weekend.
For more information on either of these events or if you have any other questions please send an email to neothink.day.questions@gmail.com
There is so much new information coming out every day for World Neothink® Day, be sure to watch for the next issue of the Neothink® News we shall be sharing all about World Neothink® Day brand new website!!
Now I'd like to share with you a submissions from Daryl Carrigan, who has written a short complementary piece about World Neothink® Day. Enjoy and thanks again to Daryl for his submission.
World Neothink® Day by Daryl Carrigan
When I was a young child, I thought that I'd become a great man that would change the world.
As I grew older I found that it was more and more difficult to be that person who could change the world. I felt that there were many causes for this difficulty. From Education, to organized religion, to politics, and those who would usurp unearned value from others, I could see there were many areas that needed to be changed. Many times these groups used 'higher causes' to gain peoples attention and support, instead of honest value exchange.
These 'higher causes' gave the illusion that they were for the betterment of humanity, through the sacrifice of our power and money to 'help' others.
On the surface this gave reassurance to people that they were going to be taken care of, but something sinister was going on below the surface.
While the innocent individuals and honest businesses maintained and created values that made the world a better place, those in power created problems where there were none and used force or the threat of force to attain their power base.
Yes, some of the money attained was used to help those in need, but the majority of this unearned money was used to create a vast unneeded and illogical bureaucracy. Politicians and the religious hierarchy need this power base in order to maintain power and must find ever-new programs and causes to expand their power.
We of the Neothink® Society see that the most important value in Society is the preservation of the Conscious individual. The individual must be given the opportunity to use the tools to become their own self-leader, pursue their inward passion toward value creation, and pursue their hopes and dreams whether it be through honest business, or happiness through love.
Honest uninhibited individuals through business must be given the opportunity to cure diseases, remove the threat of future pandemics or other catastrophes, and improve the quality of life for humanity in every single area.
We of the Neothink® Society are together on this day, World Neothink® Day, to celebrate our common thread of value creation through love.
May you become the person that you were meant to be.
Ever Loving TVP Saturday Call
The Creative Essence of the Twelve Visions Party® continues to have a blast on the Ever-Loving Saturday Call.  The call starts at 11:30 a.m. Eastern and last 1 – 1 ½ hours.
The call hosts are Jill Reed and Kenneth Townsend.
The essence of the call is to create materials to spread the "good word" about the Twelve Visions Party®.
Working together in art, science, business, and professions we are creating articles, art, businesses, and using the professional mind to review paperwork necessary for affiliation of each state with the TVP National Party.
If you feel you creative mind "catching a bug" for the TVP because you are seeing how important it will be to protect your own Friday Night Essence please come join us.
It is a great way to start the weekend.  Come just for a "Project Curiosity"!
We would love to have you so call 303-390-0043  pin- 376958# at 11:30 AM Eastern, 7:30AM Pacific Every Ever-Loving Saturday!