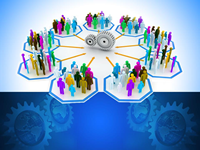 Twelve Visions Party of New Jersey 2nd State Convention March 20, 2010
The New Jersey Neothink members have worked diligently and now the time has arrived. All the planning, creativity, consciousness and forward movement will materialize this Saturday March 20th at the Newark Symphony Hall in New Jersey.
The time has come to take action, and action it will be this Saturday!
We, The New Jersey Convention Planning team, feel like Trail Blazers, true pioneers! The enthusiasm and fortitude of our forefathers are in our minds, our bodies and our emotions.
Mark's Hamilton's writing is in our mental and physical spirit.
THE TIME HAS ARRIVED!!!!
We are officially going public. We are taking the TVP Movement to the grassroots. In time, ordinary men and women will see this as the only movement that can save America from destruction. We are expecting over 200 people to gather and participate in this historic meeting.
Our founder Mark Hamilton's right-hand man, Steve Rapella, will share with us a side of Mark we have never heard before. What a great experience this will be.
Top notch NT members from around the country are bringing their essences to the convention. The Business Alliance members will be exchanging values that they have created through their essence. There will be a dynamic performance from the Arts Essence group of poets, performers, music and singing. What a treat this will be.
NTR Talk Radio will be in the house recording this high level of integrations from member in attendance as well as the public. As an added bonus, this Friday night 3/19, leading up to the convention, there will be a clubhouse gathering which will raise the energy level to a fever pitch of happiness. They will be setting the tone for the Saturday gala event.
These areas are being headed up by top NT men and women who are highly integrated individuals with a passion for life. We have been mentored by Mark Hamilton and now it's time to show our stuff baby. Get ready for the ride of a life time.
NT Warriors are laying the path for Mark Hamilton and the TVP movement to emerge on top. Let's take our country back. Future generations deserve the right to live a complete life of prosperity and happiness. As Miss Annabelle taught her students, the essence of happiness is value creation.  Full steam ahead NT Members…..
Larry Johnson
TVPNJ Chairman planning committee
Members of the New Jersey State Planning Committee:
Larry Johnson, Royd Garcia, Bill Hunsicker, Steve Fagan, Sage Katakura, Bob Mc Caffrey, Peggy Hunsicker
Ever-Loving Saturday with the Creative Essence of TVP
What an exciting month!
We have integrated the essences of Business, Science, Arts, and Professions into our weekly call.  We are looking for ways to create projects and break them out to jobs of the mind to create wealth for our Twelve Visions Party®.
Recognizing the value of each individual, we plan to develop the Friday Night Essence of each participant so they can start playing in their creativity during the week to make every day ever-loving.
The Prime Law means so much more than the Pledge of Allegiance as it recognizes the value of each human being.  Accordingly, we now have those who have memorized the Prime Law recite it to begin our meeting.
Our Inner Circle Writers prepare a Vision article each week and thanks to Deb Hemenway the articles are shared on a Facebook Group.  We even learned a 3 minute ear yoga exercise to help the mind!
We are always looking forward to more creators joining us.  Please call 303-390-0043  376958# at 11:30 Eastern every Saturday.  Jill Reed and Kenneth Townsend are the co-hosts for the call and it is lots of fun with open lines throughout the call for your integrations.