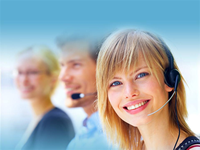 Spotlight on  member Sue Moore:
I have been working with Neothink® Teleservices for about five months now.
Everyday is a different and equally exciting experience.
I especially enjoy retaining and enlisting new members for the Neothink® Society.
I spoke to a gentleman a few weeks ago and in first speaking to him he just wanted to return the books he had received. After sharing with him what a true value this has been in my life, he was very eager to attend a clubhouse meeting in his area and continue his membership in the Society.
Life changed…thank you!
I also recently spoke to a woman who had ordered the Global Information Network CD package but had no idea about The Neothink® Society. After explaining just a little about what we do and how it has changed me, she ordered the book right then and there!
Another life changed…you're welcome!
Now, I don't consider myself a salesperson, I just enjoy connecting people to the Neothink® Society and helping them understand what a true value the Prime Literature can be in there lives.
I wonder how many more lives will be changed!?
Thank you,
Sue L. Moore