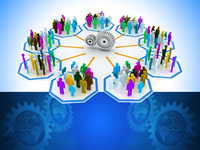 This has been an exciting month for our Wednesday night National Neothink® call.
Steve Rapella, Mark Hamilton's "Right-Hand Man," was on the call on Wednesday November 18th to share the exciting news about the Dallas Ad we had all been waiting for.
It is now official!
The Neothink® Society has been injected into the mainstream and, for the first time ever, has publicly invited others to join by purchasing Mark Hamilton's newest edition of prime literature titled Wealth, Health, Peace! (All proceeds from the sale of the book will be going directly to the Twelve Visions Party.)
This is a chance for all members to encourage others to join the Neothink® Society. This is the opportunity we have all been looking for. The opportunity to approach others with something very tangible so we can invite and expose our friends to the benefits of membership in the Neothink Society. Take full advantage everyone!
You can listen to the replay of this very valuable call by clicking the link http://attendthisevent.com/Classic/?eventid=9970599
We also had members of the TVP National Committee join us on a call to share the latest happenings and directions as to how we can get more information or how to become more involved now that the TVP is also public.
More information is available at www.tvpnc.org or www.twelvevisionsworld.com. (FYI, every third Wednesday of the month will be devoted to Twelve Visions Party matters, so you have one call to attend for updates.)
Member Services, under the direction of Steve Fagan, also made an appearance to update their current activities. They are well-spoken Neothink men and women who are providing answers to our member's most pressing questions. Kudos to each one of them for making a difference. (see member services article for an example of their work)
There were other exciting discussions and matters to share and you can find all the replays of the calls you may have missed from the links you were provided in your weekly teleseminar reminder email. Go there NOW!
Please join us every Wednesday evening at 9:00 PM Eastern by calling 949-333-4806 pin-256015# or by clicking the link you receive in your newsletter.
Moving on.
The Ever-Loving Saturday with the Creative Essence of the Twelve Visions Party continues to be a place to grow comfortable with yourself and the Twelve Visions Party. For over one year now, the mission of this weekly call has been to create unified materials to share with the public about the Twelve Visions Party. Our dream has come true thanks to Mark's recent movements.
Kenneth Townsend and I co-host the call.  We have been working with Society members to figure out the best, simplest, quickest way to develop Political Action Committees (PACs) because they are mandatory in order for the Twelve Visions Party to function according to current government regulations. We need PACs of our own to qualify for the billions of dollars that are given to political candidates and causes. We want our share!  We have also been working on other creative ways to let the public know We are Here!
Please roll out of bed, leave your PJs on if you want, but be sure to dial 303-390-0043  376958# as you put on your thinking cap to "join us in the Sandbox" at 11:30am eastern time each and every Saturday.
We have alot of fun "coming off mute" as we creatively work to make the Twelve Visions Party a reality in our lives using our creative essences.
See you soon!
Jill Reed and Kenneth Townsend
World Neothink Day Coming
Hi Everyone,
It is that time again, time to plan Our Second Annual World Neothink® Day Celebration happening on May 16th 2010.
Now with an event this size it takes quite a lot of help to plan and organize so I am as always looking for volunteers to help with our Global Planning Team.
If you are already on the team, I thank you for your help!
If you would like to add yourself to our team, please reply back and let me know.
If you know of someone else who would like to help, but did not receive this email, please let them know that they can send an email to world.neothink.day@gmail.com
We will be meeting once a week going forward and all meetings will be recorded for those who cannot attend live.
If your team is planning to have a large gathering on May 16, 2010 please let me know that as well.
Have a wonderful day everyone!
With Life, Love, Peace, and Happiness,
Cate Kozikowski
World Neothink® Day International Coordinator
Sierra Summit A – Team
860-459-1326
The TVP-CA Makes a Splash at 'West Fest' Event!
On Sunday, October 25, the TVP of California had a 10′ x 10′ booth set up at the West Fest Concert (a 40 year anniversary tribute to Woodstock) in Golden Gate Park, San Francisco.
Led by San Mateo-based Atlas Limousine Service Owner and CEO Issa Fiad, other TVP Visionaries participating and contributing their time and energy to help spread the TVP word that joyful day, included all the State Party Officers: Joanna and James Young (accompanied by son, Jacob, and daughter, Julianna), Otto Beasley, and Loren Taylor.
In addition to the Young family, Claire Racine also made the drive from her home in Sacramento. Counting Brad Wood, Art Gonzales, Dan Bride, Jun Demavivas and new members China Gudala and James Fandino, the SF Chapter had a total of 9 Visionaries all working harmoniously together and pulling their weight.
Our allies from down under also made their presence known with Robert Silvetz (Dr. Bob), who hails from San Diego, making a late afternoon appearance to snap a few photos and offer a few special words of encouragement.
Everyone, (except, perhaps, the San Francisco Chronicle, who, for all intents and purposes, doesn't count anyway – please see the associated article attached above), is calling what happened that day a resounding success for the TVPCA and the Twelve Visions Party, in general.
All 8,000 flyers, which were designed to emulate the homepage of the tvpnc.org website, had totally left the nest and taken their intended flight by 4PM, two hours before the concert ended. Although anybody stopping by our booth was sure to get one, along with some additional materials (the 12 Visions, the State Platform, etc.) the vast majority were dispersed by the Gatling gun quick hands of California Visionaries, as they wove their way through the endless passing party goers tromping their way to the two main concert stages placed at either end of Speedway Meadow.
If one looked closely enough, one might see Loren, video camera in hand, doggedly following Issa about, as he attempted to capture on film what is now being touted as the Issa Fiad method, or "Isty" for short!
In a nutshell, it went something like this: whenever he handed one or more passersby a flyer, he would tell him or her: "I'm giving you this flyer. Read it. You like it, and I will tell you about it. You don't like it, and I'll give you 10 bucks".
Well, if "proof is in the pudding", then in this case, proof is in the "dig – ee – tal" (as Issa's Middle Eastern accent calls it), for therein lies the permanent record of how much money came out of Issa's pocket using the "Isty": ZERO!
As he is so fond of pointing out, he was pleasantly surprised and somewhat amazed at how much the people he spoke with liked what he had to say, and how, especially the younger concertgoers, gobbled up his nuggets of wisdom, filled with stuff like the Prime Literature, the Prime Law, a protection-only government, and the depoliticization of the United States.
As a way to close this brief West Fest Report, I thought a few statistics might be in order.
Regarding the Flyers, which were 8,000 in number, not only were all of them distributed, but neither I, nor anyone else I have spoken with said they saw a single one lying on the ground or in the garbage.
Now, if 80,000 is the correct estimate for the number of people attending that day, then, after taking into consideration most people were traveling in groups of 2, 3, 4, or more, simple arithmetic turns the 10% of 8000/80,000 (if the flyers went only to single individuals) into 20%, 30%, 40%, or more. That translates into the very real possibility that anywhere between one quarter and one half of the people present that day have, at the very least, now heard of the Twelve Visions Party!
Throw in 16 bona fide TVP-CA registrations, and it's easy to see the TVP in California, the TVP in the U.S., and the TVP in the world is now well underway.