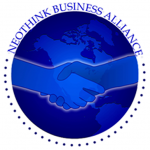 The Neothink® Business Alliance News
New Year Integrations – The Neothink® Master Mind
By Rick Mabe
Just a short piece for you to think about at the beginning of the most successful year yet!  I recently developed a Focused Thought that everyone should take as their own and be a part of this huge Master Mind of Neothink®.
"The Master Mind that is Neothink® and of which I am a significant part is making huge leaps in advancing all areas of the Super Puzzle.  I focus my efforts on value creation within my essence and I integrate pieces of the puzzle into the Super Puzzle and by doing this I am continuously experiencing happiness and prosperity."
Master Mind Integrations
In 2008 we started the Arts Master Mind Group with Elaine Bennett, Jeff Smith and Steve LeValley.  In 2009 The musicians group began developing a business mindset and developed their Mission Statement.  Additionally, work has been progressing on Mind Snap magazine.  There is a project ongoing to get a concert planned for 2010.
In 2009 we started the Alternative Energy Master Mind with Keith Gilmore.  Within 8 weeks this group had developed a business plan and they have a company set up to market Solar Energy.  They have great plans for 2010.
At the end of 2009 we set up the Finance Master Mind with Doc Morris.  This group will address the current financial system issues in our country and will develop new thinking for those challenges.
Master Minds are becoming more important to advancing our primary goal of curing aging and death.  We should all put our essences on the table and join these groups that will be the pool of resources and talent that our TVP President will be seeking in 2012.
Membership Integration
Anyone who wants to be a Neothink® Business person or that wants to bring their existing business up to the standard of Neothink® should join the Alliance by sending an e-mail to nbai@live.com to receive an application packet.  There will be amazing advancements in The Alliance in 2010 and there will be room for all to participate and enjoy the thrill of Neothink® Business.  Be ready for a great year! I look forward to a very successful year with you.
Neothink Business Alliance ARTS Mastermind Update-
Mind Snap Magazine
The Writers Mastermind now has a Technical expert, if approved, who will be able to move the MIND-SNAP Magazine more into its proper format. Progress will be a little slow at first… (Patience is a virtue). Most Writers have been kept abreast of changes. This has been a long sought for advancement! If a member wishes to submit or edit material, please send an e-mail to neothink.vbawriters@gmail.com We are still seeking a Writer's Coordinator. If you are interested please email the same address.
March 20th New Jersey TVP Convention
The list of performers/participants is being compiled over the next few weeks. Artists are free to show their paintings or graphics, and please use easels etc. Poets may do Readings. There will be a rented Table from which to offer paintings/prints for sale, CDs, Albums, etc.
It may be possible for videos to be projected onto a screen at intervals, if performers who cannot attend in person have a performance video they would like to mail in. This will be determined also over the next several weeks. Steve LaValley will contact the Symphony Hall's sound & light Technician to see what other equipment might be needed to be brought in by performers.
Each Attendee to the TVP Convention will be charged for a Ticket. This includes performers.  We have several performers who have committed to be at the Convention, and expect several more from that New Jersey Regional. If you wish to attend, please send an e-mail to:
ARTS Mastermind at nt.artsessence@gmail.com , Please Cc Steve LaValley at sl.h2music@gmail.com.
Steve LaValley's Box site
This week, since a lot of material has been downloaded to Steve LaValley's box site, Steve has determined that he will begin the organization of all submissions to see how the ARTS Collage Musical Video Testimonial to Mark Hamilton/Neothink® Society/TVP will be orchestrated…
Exciting times are in progress for all the ARTS, and we are glad we have a venue to share with our Neothink® Society Members. Viva la Arts!
Alternative Energy Master Mind Update-
Neo-Energy Independence
Since the last submission to the NBAI newsletter there is a lot to report from NEI. We have taken our new business relationship in Kansas to the next level, in that meetings and dialogues are underway for the purpose of obtaining our first round of financing, some women-owned business grants, the opportunity to provide some products for both commercial and institutional interests, and a shop and office space of our own. Michael and SaDonna Chambers, along with Tim Dolby in Kansas, are using their time well in assuring a strong foundation for the NEI National effort.  See our National Press Announcement here http://neoenergyindependence.com/neo-energy-independence-announces-their-presence We also started a Facebook Page, which you can find and join here if you like:
http://www.facebook.com/pages/Clean-Green-Energy-Security/229339040837
Additionally, we have begun the process of locating Licensed Electricians in the Southwestern States of Arizona and Nevada. We placed our ads and received 50+ inquiries in less than 18 hours. It was incredible. People are really looking for work, and we know some of these guys are going to sell some of our products and systems too, so it is not just a boon to the local economy, but if we handle it properly, some of these skilled and experienced businessmen may even join our ranks in the Neothink® Society. So for us this kind of effort is exhilarating on several levels.
Speaking of sales, growth and economic success, we have a couple of NT people who will be preparing to join us as members of NEI. We require that all NEI members use Minidays, and to ensure they will we expect them to take the Integrated Solutions Alliance (ISA) trainings offered by the Washington State A-Team. So these potential NEI members agreed to entertain that, and hopefully, since they are both in Ohio, we may have the makings of a new NEI office in Ohio.
So if you are interested in the NEI business, and think you may want to help us sell our products and systems, contact Keith Gilmore at jkgil@olypen.com and he will provide more detail.