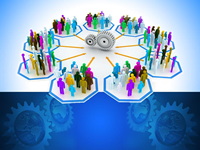 The Love Bus
I made a 49 hour one-way trip to attend New Jersey's 2nd State Convention.  There were easier ways to get there, but, my journey allowed me to speak of the Twelve Visions Party® to hundreds across the nation.  I used the media approach that Mark Hamilton had given us.  When I spoke about "The Greatest Get Rich Program in the History of Mankind" the people listened.  When I shared that there are really only two (2) classes of people – the "Ruling Class," and the "Suppressed Class," people understood.
When I spoke of the Visions and the Prime Law, which separates the two, they listened intently. People want to understand what Mark Hamilton has shared with us.  Now, we should each be responsible and spread this message of love.
When I arrived at the bus depot, in Newark, the first man I spoke to, named Arthur, responded, "I have heard of The Twelve Visions Party."  I hesitantly replied, "How?"  He replied, "I see it on my way here on the Hall!"  I was thrilled.  He helped me find the bus to my hotel and carried my luggage onboard!  I invited him to come by Saturday if he had time with no promises that I could get him in.
Arthur stopped by on his way to play jazz guitar for his church.  Peggy Hunsicker came to find me.  Arthur and I exchanged hugs and he gave me a luggage cart.  Bob McCaffrey gave him a name tag, and I saw Arthur's chest puff-up!  He was offered lunch from someone else.  I introduced him to Steve Fagan's warm welcome.  The exchanges here showed me what The Neothink Society® and TVP are all about.  We are love!  Someone else arrived to say hello to me, and while we spoke, Arthur interrupted.  Here is what he said "This lady has restored my faith in America."
I know that I am only a messenger, as I can reflect from Arthur, and, say "Mark Hamilton restored my faith in America."    Next, Arthur, who has played at prior Inaugurations, said "I want to play for you all!"  I exchanged addresses with Arthur.  I still see his proud face and know he walks the streets of New Jersey proudly wearing his name tag for The Twelve Visions Party.
I thank New Jersey for letting me engage my passion for the Twelve Visions Party and I thank them for the value of sharing their experience with the rest of our states.   As I listened to genius after genius make presentations, share integrations, read poems, sing songs, dance, and share love, I thought to myself, "I am so proud to be a part of this group of geniuses as we bring about Wealth, Health, and Peace to America."
I found love on my bus trip!
Jill Reed